Exclusive high-quality Belgian chocolate and different varieties of Bulgarian wines were tasted at the international exhibition Vinaria 2017 for the first time. The products were specially selected by the expert in cocoa Katya Hariskova and the president of the Union of Oenologists in Bulgaria Stanimir Stoyanov. 
The visitors were offered four combinations:
Sauvignon Blanc vintage 2016 was paired with chocolate called "Peru 64", which contains 44 % cocoa and has the flavour of citrus. 

The second one was a combination of classic Pinot Noir (2012) with a milk chocolate "Ecuador 71". 

The blended wines from old vintages (2010) Cabernet Sauvignon, San Genovese and Alicante Bouchet have been harmoniously paired with the taste of  "Costa Rica 38" chocolate which contains toasted cacao beans. 

The dessert wine "Rkatsiteli" (2008) was paired in a unique way with white chocolate "Domenicali 31".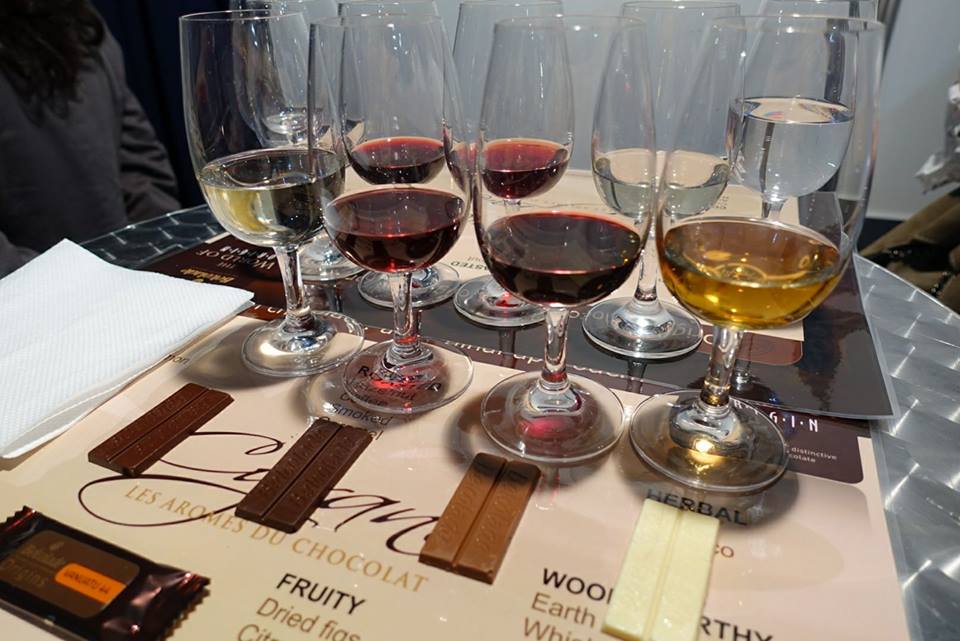 According to the experts, sparkling wines from Chardonnay and Muscat combine wonderfully with white chocolate. They recommend combining fine milk chocolate with  Pinot Noir or young Merlot with spicy shades - dark and bitter chocolates that have a powerful impact on the senses. The darker the chocolate is, the stronger the feeling of tannins.
The experts have advised experimenting with different kinds of chocolate: starting from the lighter and gradually moving towards darker. The scientists recommend a glass of red wine and a piece of chocolate every day to be healthy. According to them, red wine and chocolate are useful for strengthening the immune system. 
So, drinking wine and eating chocolate is actually beneficial for your health, but everything depends on the quality and amount of consumption.